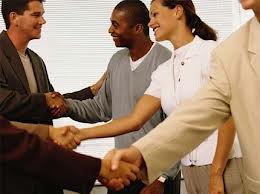 GUEST POST: JP Paulus, Do-Gooder Consulting
In last week's blog entry, David shared several great points.  One of these struck me in particular:
2. There are a significant number of urban leaders doing great things to engage and equip young people, but are not trying to hype it.
I have a view on this myself. I am a guy who grew up in the suburbs, but immigrated to the city, first in the Chicago North Side neighborhood of Uptown, and now in Chatham on the South Side.  I write that to say that I come from a culture that tells you that you are supposed to know everything and be self-sufficient, but it is also a culture that didn't value deep interpersonal relationships, and certainly not ones that exposed weaknesses.
In my younger years, Uptown Baptist Church youth pastor Mark Colligan did a great job of helping in his volunteers (at one point, there were at least 8 of us!) connect with his ministry friends., introducing us to events like the KingdomWorks/CompassionWorks , and other city youth pastors such as Danny Lopez and Steve Laughlin.
What we saw as volunteers was Mark having REALATIONSHIPS – not simply doing a big event with little results. We saw lifelong relationships. (We DID do big events – but they were meaningful, and some lasted for years!)
And for me, it really ignited a passion of resourcing and connecting. And there's a lot I could write, but I will try to keep it to a few brief thoughts (for now):
It can be very frustrating, at least in Chicago, to connect with people. Some have a particular agenda (such as political, or hyping their own ministry). Some are just super busy, and haven't delegated networking to someone else.
Respect in the world I see here comes from consistency, and letting people see your heart over a long period of time. It's not about how impressive or prefect things are (or appear to be) – but how real you are. Basically the same concept as effective youth ministry, only YOU are the one who will be ministered to.
Don't let big events be the center of your connecting. I mean, projects are EASY to get excited about, and put a lot of energy into,  but you might not bear much long term fruit past a spiritual high.
People, especially in youth ministry, go through some hard seasons. Sometimes it's God telling them to move on, but sometimes it might be that they simply need stop pouring OUT, and let someone pour INTO them (in conjunction with the Holy Spirit). But assume that person is you. (Especially those of us form the suburbs – we might "accidentally" go into Messiah complex)
Once you have plugged in with some people, your eyes will be opened to the community out there. So for example, the Reload one-day conference for urban youth workers, held at North Park University, can feel like a family reunion for those who have been a part of many such events.
And again, forgive my networking bias, but there are also secular events where we can also connect. And in the course of who we are, God will still bring out fellow believers to share a deeper connection.
My view is certainly limited, especially in a city with literally thousands of churches, and with that, millions of relationships and billions of stories. I would love to hear how you have experienced networking and connecting with the larger Christian community here in the city of Chicago or elsewhere.
I also invite you to check out a few of these resources as well. Between all of these, you can learn how to connect with fellow youth workers and get the tools you need to fulfill your calling.
North Park University –  http://northpark.edu/Centers/Center-for-Youth-Ministry-Studies/Reload-Urban-Youth-Worker-Conference/About-Reload = Reload conference information.
Urban Youth Network – https://www.facebook.com/#!/groups/157392998144/?fref=ts = An interactive fellowship of pastors and volunteers with a heart for youth and a need for fellowship and support. Currently, their Facebook page is the best way to communicate.
Illinois College Access Network  – www.illinoiscan.org = A secular network of people and organizations who want to help youth (and adults) go to college.
Do-Gooder Consulting Blog – http://blog.do-gooder.us = The blog for my firm, Do-Gooder Consulting.
Is networking important to the success of urban ministry?  Join the conversation and tell us how you plug in. . .