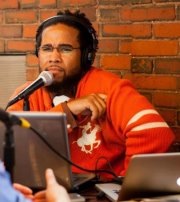 GUEST POST: Erick David Townsend
Today we continue are conversations of understanding for those currently ministering or wanting to minister in Urban communities.  Our guest post today comes from a dear friend and partner in Kingdom ministry.  Erick has a heart for young people and is a husband, father, lead worshiper, vocalist, songwriter and has been a celebrated on-air radio personality for Chicago's top rated Moody Christian Radio.  Erick now host The Urban Message on Total Christian Media.  Notable guest on his show include nationally renowned recording artists Kirk Franklin, Richard Smallwood, Deitrick Haddon, Fred Hammond and Marvin Sapp.
I currently have lived in a Chicago urban setting for more than 10 years and am fortunate enough to have 20 plus years of rearing roots in rural and suburban dwelling places. I agree with JP Paulus' assessment of issue #2 and believe issue #4's answer also begins to develop in what most of us, no matter our current living arrangement, have fashioned little time to perfect…more on that later.
Today's technology and social media have made it almost effortless to keep up with whomever we choose, but what about those who are assigned to us? Those who aren't concerned about the ease of connection, rather wish to see valiant effort.  What about those who have connected with your urban youth group only because of proximity rather than preference? Or even those who can't see anything other than their desperate need and desire to at the very least, not get lost in the dominant or sub-dominant culture's priorities, whether on a macro or micro scale. More questions than answers and not by accident.
There is nothing more offensive to a young person than giving false testimony.  It is always better to say you don't know or have yet to experience than to make something that happened to you "fit" into every urban context.  It is understood that we will have transplants or urban immigrants but the way the immigrant handles their adjustment period and assimilation, determines their own effectiveness. Stereotypes and assumptions only render you effective-less. So, is urban curriculum needed, YES!  Is urban curriculum the answer to doing urban ministry effectively, I say NO!
As we are finding our gathering of youth, inside and outside of church settings, becoming more and more diverse in culture and ethnicity, how can we expect a "good for the goose, good for the gander" curriculum to address the vast issues of the city?  A common mistake of same color equals same culture, I believe, imprisons us into a mentality of "one size fits all" and what worked for Tyrone will work for Tanisha. What we then fail to see is, Tyrone's truth has more in common with Becky than he ever will with Tanisha. We have allowed the proof texting of Galatians 3:28 "There is neither Jew nor Greek, slave nor free, male nor female, for you are all one in Christ Jesus" to keep us in a state of "Blind Denial," when it comes to the diverse and connected issues of today's youth. Why "Blind Denial" because we take the stance of the famous monkey statue "Hear No Evil, See No Evil" but we forget to "Speak No Evil." We should instead be freed by that text into understanding that my differences ON the table don't make us different in the eye of God thus I should be willing to treat my neighbor as myself. Not simply like I like it!
The urban places to gather are increasingly becoming places where, Red, Brown, Yellow, Black and White are all precious in the owner's sight (LOL). As the dollar brings us closer together and the economics of today simply force us to actually spend money together, we mustn't forget that after the transaction, we must live together. Now neighbors by the Bibles calling and by proximity have doubled the need to understand that my example and many others may not be in that workbook of yours.
We have all heard the argument of standardized test examples keeping underserved urban youth from excelling but what about the standardized youth group examples that instead of keeping you connected to youth drive you farther away from them and no closer to authentic relationship with Christ? Today's multicultural, multi-ethnic youth group takes more devoted work than ever before. Which leads me to where I started, piggybacking off of JP Paulus…RELATIONSHIPS. Yes it was the driving force behind Christ's walk here on Earth and it is the underlying rip current to successful or unsuccessful ministries…Urban or otherwise. When learned how to navigate, rip currents can be a great asset. When ignored, they can be the relational and spiritual deaths of you and all involved. The same is true for urban curriculum.
So what do we do as conduits of truth and leaders of our future leaders? Great question! Here are several practical "Duh" answers:
–       Be YOU. Don't try to be anybody else…Period!
–       Admit you don't know. Not only will you learn something new, you will begin to gain credibility.
–       Ask if the curriculum example is authentic. Don't treat the curriculum as the Bible. IT can be wrong in the context of your  urban setting.
–       Be willing to look silly (old). There is nothing more rewarding than being laughed at because you were born before cell phones were invented then turned right around and being called on the cell phone and trusted to answer a question that will change their life today.
–       Build RELATIONSHIPS not religion. Urban dwelling, in itself, has its own religious practices, by definition of the word religion. In order to gain access to that world, one must be willing to spend the time it takes to establish trust and permission to reveal the way, truth and life.
Let's pick our heads up out of the workbook and work the Book. What do you think? How can we be more effective with the urban curriculum that we have?
Please see the links posted by JP Paulus for practical places to further training. If you are feeling brave, there are plenty of hangouts for you to immerse yourself into the urban youth world. Ask for an invite, reply with those you know of and we can provide others.
You can hear me Weekdays from 11am-2pm CST on my radio show "The Urban Message" on www.tcmradiostation.com. I can be reached for bookings or comments at erick.townsend@gmail.com.