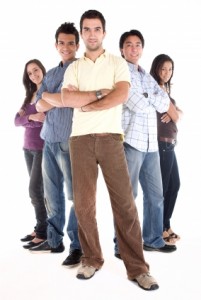 GUEST WRITER: Rob Townsend
I promised you I would be bringing perspectives from all across the country.  I am honored to provide you the prospective of a Youth Pastor, friend and co-labor in the vineyard.  Rob is the Pastor of Student and Family Ministries at Calvary Bible Church (CBC) in Rutland, Vermont.  Today Rob provides us a view from the suburbs looking in.
As a small city minister from central Vermont I am often asked why I spend so much time studying urban issues. I can totally understand this question because I must admit that I do spend an inordinate amount of time reading urban ministry books, blogs, and studies. This is a practice that started for me while at Moody Graduate School in Chicago and it is a direct result of my time studying theology, practice, and principles of urban ministry with my friend and mentor Dr. John Fuder.
Doc helped me to rethink my views on ministry. He challenged me through books by great men such as Dr. John Perkins and Dr. Roger Greenway, along with others to seriously consider the implications of applying urban ministry practices in smaller cities, and even rural areas.  In essence, Doc changed my worldview significantly which has enabled our student ministry to remain effective in our ever more "urbanized" small rural city.
What is so urban about a city with a population of 17,000 in a state of 600,000? That is a fair question and I one that had to ask myself when this journey began 8 years ago. The answer is simple: we have a sin problem out here too. Yes I think that the issue that binds the big city, small city, rural towns, and suburbia together is, at its root the same sin issue man has dealt with since the fall.
To be certain, the manifestations of this issue have some distinctions from place to place, but we must realize that at the core, they are all identical. Recognizing this reality, I became determined to help our students see the reality of this fact. This desire was the catalyst for building a cross-cultural student training program in our student ministry that has led to strong partnerships with ministries in the south side of Chicago as well as other urban centers. The goal is simply to help our students see that the city has many of the same issues they have and to help those in city see they are not struggling alone. Along the way I have been blessed to see that the other commonality between these groups is the ability to overcome obstacles to experience the victory available in Christ!
As I began to study the trends in Rutland, Vermont along with my studies of the urban culture in Chicago, I noted three key areas of struggle that exist across socio-economic, racial, and geographic lines.
In every setting students desire to be accepted.

Across the board from city kids to farm kids, this need to fit in pervades the human condition. We are wired for fellowship, and when this need isn't met through Christ and Christ centered relationships it leads to destructive attempts to fill those holes. The result of these empty attempts to find fellowship is the formation of gangs, the troubling increase in bullying, and substance abuse issues. In my little city alone we are seeing gangs forming (Gangster Disciples, and Los Solidos to name two), the poor being taken advantage of by slumlords, and as our ethnic diversity changes we are seeing a marked increase in violence and drug related crime. I once asked a young man in south Chicago's Englewood neighborhood why he joined a gang and his answer was immediate and succinct: "How else am I going to be accepted around here? And man, being accepted means being alive."  We have to rethink our approach to reach all the young people in every location who see being accepted at all costs as the only means of survival.
In every setting students need to find their identity

. One of the greatest tragedies of the Fall is our loss of true identity. Our students struggle to see themselves as valuable creations of the King. Whether this is a product of fatherless homes, unbearable economic circumstances, or some other sin issue the end result is the same. We have seen an increase in teen suicides, more teen on teen violence, an epidemic of sexual dysfunction manifest in pre-marital sexual escapades, sexual identity issues, and a porn addiction of epidemic proportions. I was recently counseling with a student who was compromising in the area of relationships who stated, "If he makes me feel complete how can what we are doing possibly be wrong." Young people need to be re-focused on the beauty of their identity in Christ by being introduced to his truth and then challenged to live without compromise.
In every setting students are barraged by media

. No one will argue that our culture is more media driven or influenced than ever before. In fact I would argue that many urban influences are finding greater traction in rural areas because of the increased exposure of all students to media.  Students are being hand fed their morals from stars like Jay-z, Ric Ross, Snooki, and other less than admirable figures. As they bury themselves in social media and online gaming, they are creating alternate realities where anything goes. Even though they are "more connected" then ever before they are becoming completely disconnected from any sense of right and wrong. They are watching depravity play out in their music, TV, and other venues of entertainment. We need to attempt to counterbalance this moral slide by making positive investments in students while offering positive alternatives to the moral filth available. Students need alternatives but most importantly they need to have their own moral compass tweaked to line up with the Creator of the universe. In short, we need to model and proclaim Christ within our context to show them the reality of His love, justice, and grace!
Each of these issues brings to light the hopelessness of our world when Christ isn't in the center. We must begin to rethink our approaches to these issues so that He can transform lives.
To my Urban friends, I start by saying that on behalf of white rural America, I am deeply sorry that we have judged you, tried to "fix you", and shoved our brand of churchy Christianity down your throats. I pray that you can forgive us as we seek true partnership centered on the Lord we all serve!
To my fellow suburban/rural counterparts, we must seek to learn from our brothers and sisters in the city. They are innovators, "over comers", and people who have learned to shine Christ in some difficult situations. What they have done we need to do! Sin is universal and the urban issues are also rural/Suburban issues.
The Church needs to stop being the church in the city and a separate church in the country. We must take Paul's words in Ephesians 4:2-4 to heart:  "Be completely humble and gentle; be patient, bearing with one another in love. Make every effort to keep the unity of the Spirit through the bond of peace. There is one body and one Spirit—just as you were called to one hope when you were called—" When we focus on Christ as the great equalizer, we see young people from the city, suburbs, and countryside overcoming the sin that so easily pulls them down. When we the church invests in students they begin to have hope. In my years investing in Chicago and Rutland I have seen many break free of their circumstances and start to shine.  We must recognize that there are many success stories, whether it be the young lady in Rutland who became a leader in a church after her father was sent to jail, or the young man in Englewood who in his junior year of High school serves as a role model for the young children or "shorties" in his neighborhood by excelling in school while making positive lifestyle choices or countless others.
The longer I remain in ministry the more I believe that every student can be a success story if we simply invest in him or her with the heart of Christ. It is my absolute contention that regardless of where a student lives we must focus on four simple philosophies of ministry. As long as their implementation is properly contextualized, these are practices that I have seen work wherever they are tried from the south side of Chicago to the small towns in Vermont.
We need to introduce them to Christ. We must use scripture as the basis of our efforts to reach the lost and to help grow the redeemed!
We need to give them a cause to serve. When young people are serving in a church or for the betterment of their community it becomes increasingly possible to help them see their worth and avoid some of the pitfalls mentioned above. In the Christian context that we so passionately hope they will seek to live within we need them to be active in their churches.
As they grow beyond their circumstances, hopefully as a result of Christ at work with them, we need to encourage them to share their victory stories with their peers. One thing I know to be true is that students will listen to students.
We need to encourage them to expect more of themselves! Let's stop allowing them to expect so little from themselves (Romans 12:1-2). Challenge them to defy the odds. Challenge them to set lofty goals as they set high expectations for themselves and their peers. Allow them the freedom to fail while attempting the seemingly impossible plans they dream up for His glory. Encourage them to stop settling for compromise in their academic lives, their home lives, and their spiritual lives. Hold them accountable to His standards of excellence and watch them grow deeper and more committed to Christ than those around them.
I envision a day when student ministers across our nation link arms and commit to serving each other. Our students and our ministry have built lasting partnerships and friendships in the city because we have come to the table seeking true partnership. We have come alongside our brothers and sisters without an agenda.  Our only goal is to serve alongside them as ministry equals. This investment has allowed us to learn the valuable lesson that the city and the country are at war with the same "demons' and sin nature. I want to ask each of you to join us in battle for the souls of our young people wherever they live. Let's learn together by admitting that we both have something to teach and that we are united in battle for one cause!
I invitation you to check out my blog or the Christian Endeavor open source page.  My Blog is http://itbelongstothem.wordpress.com/ and the Christian Endeavor page is http://endeavormovement.com/.
How are you working with ministries different from yours to bring the Gospel to young people?  If you aren't, what are your challenges with connecting?  Join the conversation and let's discuss in hopes of reaching unity in the Spirit.  We look forward to your comments.