What Are The Effects Of The Government Shutdown?
Skip the blame game! In non-technical terms here is what you need to know about this government shutdown.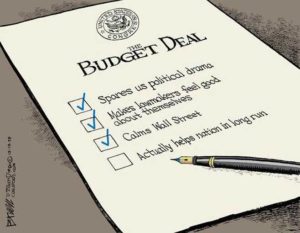 The federal government operates with funding granted to it via appropriations legislation passed by Congress. When that funding legislation expires, Congress must pass new legislation or else shut down the government's non-essential operations.
A shutdown would have little immediate impact on the armed forces. Workers deemed essential by the federal government are exempt, a group that includes not just the military but also TSA agents, air traffic controllers, food safety inspectors, border patrol agents and others.
The government is required to pay essential employees who continue to work during a shutdown, although those checks are not paid out until after the shutdown is ended and the government is funded again. Furloughed employees are not necessarily paid for the shutdown period, and paychecks for them must be appropriated by Congress.
Members of Congress, whose paychecks are written into law, would still be paid through a shutdown. Congressional staffers deemed essential by their members or committee chairs must still show up to work and be paid later, like other essential federal workers. Non-essential congressional staffers are furloughed, and as with other furloughed federal workers.
Nearly all federal agencies would be temporarily but dramatically pared back should a shutdown occur, with thousands of employees likely furloughed, almost certainly resulting in reduced or slowed services government-wide. In the past, national parks have closed entirely, as have the Smithsonian Institution museums. Passport services and IRS processing, among other services, would likely slow substantially if not stop entirely.
The U.S. Postal Service, which operates in part based on its own revenue, will continue to function and deliver mail, and Social Security checks, Medicare checks and food stamps will still be distributed.
The VA is in a fortunate situation in that they have what's called an advanced appropriations, so they get our money a year ahead of time.
This is a time we must all move past political ideology and pray for all our leaders that they may find solutions that represent the entire country and not just one side or the other.  We are the UNITED States of America.