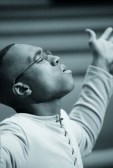 God always has a special and unique way to call each one of us into ministry.  The Lord called Jeremiah by His spirit before he was born.  Before I formed you in the womb I knew you, before you were born I set you apart; I appointed you as a prophet to the nations (Jeremiah 1:5).  God chooses the way in which we are called into ministry.  Each of us has been essentially predestined to fill a particular place in the building of the Kingdom.  Everything that happens to us as ministers, from the point of birth is either directly planned by God or will definitely be used by Him to cause His will to be done.  This is part of how he establishes us.  He will open His Word to them and enable them to feed the people of God.  Jeremiah had the words of the Lord to speak to the people(Jeremiah 1:9)  Like Jeremiah our ministries must be based on God's word and not man's word.  We are to speak nothing but the Word we have been given from God.  The Lord set Jeremiah over the nations and kingdoms (Jeremiah 1:10).  Our promotion does not come from man but it comes from the Lord.  We will be exalted in due time after we humble ourselves.  Jeremiah was called to root out, to pull down and to destroy (Jeremiah 1:10).  We are called to preach and teach against sin and unrighteousness.  To help young people understand what it means to be separated from this world.  To teach them how to discern and make good choices as they walkout their destiny.
Whatever reservations or hesitations we have about our calling are understandable but not acceptable.  Jeremiah had several excuses, one "Lord, I cannot speak" (Jeremiah 1:6) he felt he was inferior in his ability to communicate effectively.  But the Lord will always put His words into the mouth of those He is equipping for ministry.  A second excuse was his Youth.  I do not know how to speak, because I am a youth (Jeremiah 1:6).  God replied " Do not say; I am a youth, because everywhere I send you, you shall go (Jeremiah 1:7).  What was most important to God was his willingness to obey the word of the Lord.  His third excuse was that he was afraid to go because of the rejection that he would sense even by the expression on the people's face.  The Lord commanded Jeremiah "do not be afraid of their faces, for I am with you to deliver you".  God will give abundant grace for us to meet every fearful situation we may face.  God assures that if he calls us he will ensure we are established.
What hesitations do you have about your calling?  Let's talk it out.