We are overjoyed to see such a generous gift from you and  are honored to welcome you into our donor family. Today you assisted in creating a future leader.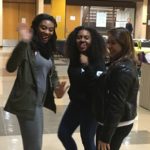 Since you see the value in supporting our mission, would you please copy the text below into your email and send to 5 people in your circle of influence – thank you:
I just made a donation to a cause I feel is a uniquely exciting and worthy cause.  I am sending this note to ask you to consider joining me in supporting them.  The organization is Destination Destiny, and they are raising funds specifically to take a group of high school students beyond their neighborhood for a life changing total emersion experience to Paris and the South of France.  Now you might say, "I'd like to go to France myself!"  This is more than just a "fun trip," it's about leadership, self-confidence, and exposure to people, places, and activities to help shape and prepare them for the rest of their lives. 
It places them in situations that allow them to grow and challenges them to expand their horizons.  100% of their participants have gone on to college. Wow.  Outstanding. 
Donate now by going to www.destinationdestiny.net.
Thank you in advance for supporting their cause. Destination Destiny is a 501(c)3 tax exempt organization and as such, your donation is tax deductible under current IRS regulations.