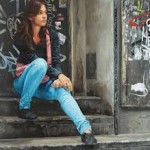 I had an incredible session on Saturday with a group of young people from all over Illinois and Indiana.  These young people were from multiple denominations and multiple geographical areas(Rural, suburban and Urban).  One of the subjects they discussed that stood out to me was the challenge of being bold in their faith in school, home and in their community.  They felt that while youth workers in their various youth groups are great at leading them to Christ; they aren't as effectively in equipping them to boldly proclaim their faith in school faced with the immense peer pressure to conform to the world.
After the session I began to wonder how many other young people are in this same boat?   My question to youth workers around the country is – what are your methods of internationally in teaching young people to walk broadly in their faith outside Youth Group?  What are they describing to you as the push back they get from friends or others in their school or community?
What are your young people saying, please have them complete the 3 question What Challenges You?  survey — http://www.cvent.com/d/jcq4wl , so you can compare their answers to those of the rest of the country.  The results are free and available under the Survey Results tab.  The Results are updated every Saturday.
One of the students shared the following website discussion on this topic from christianforum.com  and wanted to share it with you.  Below is a highlight of that Christianforum.com website conversation between 3 people:
New Believer
Does anyone else get convicted of this? Before I became a Christian, I would have never been seen telling others about God. I would have never been seen worshiping, praying, or reading the Bible. The day I got saved, I wanted to tell others about Christ. It's a struggle that I have because I'm always worried that I'll say the wrong thing. But I get convicted about it if I get the need to share Christ with others, and I don't. When I do, I start to worry about what others think. Do people think I'm a hypocrite? Do other Christians think I'm weird? Should I be sharing this with others or keep it to myself? These thoughts continue to shut me down. 
I'm sometimes afraid to proclaim my faith because it's so looked down on these days. Even some Christians aren't doing it. It's like they say they know Christ but they blend in with the rest of the world. It's hard for me to do this because I don't want to. 
All of my life, I've been a very closed and reserved person. Lately I've been wanting to open up to others. God has been telling me that I must come out of my shell. But I wonder why God would want me to do this because I have so much self-doubt. I feel like a person who has nothing to offer to others. It's like I have this nagging doubt that's telling me to shut up and give up; God would never have a purpose for me.  
I need advice from someone. Is it normal to want to boldly talk about God? Do you ever think people who always talk about God are fakes? Also did you ever get confused about what God wanted you to do? It seems like God wants me to try to learn to talk to others more, but I have this nagging doubt that is discouraging me.
I'm at the point where I'm generally comfortable with talking about God, it's not all that different from talking about other things where I have a strong belief. If you're a Christian, then God's inside of you. You are not only legally aligned with Christ, but Christian beliefs are a major part of who you are. 
Sketcher
A trick I guess, to getting comfortable with it is to read the Bible every day, spending good time in thought and prayer about what you've read, and what God would have you do. If you immerse yourself in something, it will come out of your mouth. This isn't to say that you don't pray for boldness and depend on God for boldness, but you do consume his word on a regular basis so that you can hear him all the clearer. When you're doing that, it's amazing how the Holy Spirit can use you in ways that you would never expect.
Note that this isn't speaking up out of guilt. I think this is a very common mistake among Christians. You probably know the drill by now – the Holy Spirit prompts you to speak to someone, you keep your mouth shut, and out of guilt you try to overcompensate. I believe we really need to accept the Lord's forgiveness and move on rather than to try and force open windows which have long since closed. No, for those people, you should be moved to prayer – and maybe, God will open up another window. But you need to forgive yourself and move on, being ready but having no guilt. If that window doesn't happen again in the next week, then God knows what he's doing. He's allowing you to grow before the next time with that person, if there is one – and growing always takes a while.
Emily
Dear New_Believer. In Matthew, chapter 22, verses 35-40, Jesus tells a Lawyer: " The first and great Commandment is: Love thy God with all thy heart, with all thy soul, and with all thy mind. The second is like it: Love thy neighbour as thyself." Then Jesus states this fact: " On these two Commandments hang all the Law and the Prophets." It is Love what God wants from us, selfless and beneficial. Instead of telling people about your faith, let them see your Love for God and for your neighbour, and only when you are being asked why, or told you are very kind, let your Love for God and for your neighbour become a talking-point. God will give you opportunities, and then your deeds speak for themselves. You will find in time, that being helpful and kind, and never use angry or hurtful words, will testify to your faith much more than ever words can do. When the Bible tells us to Repent, it is telling us to change from being selfish and unloving, to being loving and caring, to be a representative of our loving God. God is our Heavenly Father, and Jesus died that we might live, show your love to God and to your neighbour, ( all you know and all you meet) with following the two most important Commandments. God will see your efforts, and God will approve and bless you, New_Believer. You might stumble often, but get up and ask God`s forgiveness, and God will forgive you as you will forgive all who sin/transgress against you. You will find too, that by reading out of the Bible and asking Jesus to help and guide you, words will come quite easy to you. I say this with love and assurance. Greetings from Emmy, your sister in Christ.
How are you equipping young people to boldly proclaim their faith in your youth groups?  Share your methods with us by joining the conversation; you will be a blessing to the other readers.