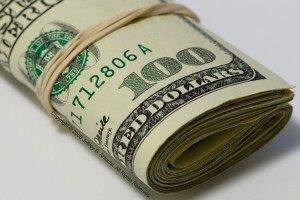 Did you get caught up in the spending hype of Black Friday or Cyber Monday?  Or today's fairly new Giving Tuesday? Wouldn't it be great if we could get that excited about worshiping God.  Today we live in a very materialistic society.  The desire for money and what it can buy has a strangle hold on people.  Even Christians spend a great deal of time trying to create or pretend to have heaven on earth.  In search of mo money, mo money, mo money.  In fact, we see Christmas has become a time of the flaunting of affluence, assuming exaggerated expenses, a pursuit of vanity for vanity's sake — in a word, financial decadence.
The last few weeks we witnessed in Illinois, Wisconsin and Indiana a focus on money almost like never before.  People stood in line for hours to get a Powerball lottery ticket.  No one won, so this week we are seeing a repeat.  The lottery was going to solve their problems.  Everyone speaks of what they would do if they won and the good they were going to do.   The jackpot now stands at $425 million.  The odds of winning the Powerball jackpot: 1 in 175 million.  See we trust what is impossible, yet doubt salvation that which is sure, guaranteed and eternal.  Money can distract anyone
Matthew 6:24 tells us that " No man can serve two masters: for either he will hate the one, and love the other; or else he will hold to the one, and despise the other. Ye cannot serve God and mammon."  The Bible tells us that mammon can be translated or substituted with the words treasure, money, wealth or materialism.
God knows this materialism is so tuff that he made one of the most shocking statements – it is easier for a camel to go through the eye of a needle than for a rich man to enter the kingdom of God.
The world's riches make it difficult to keep God at the center of our lives.  Scripture has shown time and time again monies influence on behavior and attitudes.
The tragedy of Lot's wife was her placing all her affection on an earthly city rather than a heavenly one.  Joshua's army was crushed when Achan disobeyed God and took the gold, silver and exotic garments;  Achan thought his sin mattered little in the grand scheme of the invasion.  Both lost perspective and fell prey to materialism.
We see it in the church today. Pastors, the music ministry — lose their way; get caught up in chasing the o'mighty dollar.  They have become dependant on money to define their ministry, their life or their success.   It has led to excessive behaviors – infidelity, homosexuality, sexual abuse of minors, opulence in homes, cars and in the clothes.  Look at the destruction it has cost their sheep.   Congregations split, people avoiding church due to their view of the members.   Ministers, we have accountability and a responsibility.  Hebrews tells us that all to often the love of abundance and luxury opens people to sexual sin.
If we go further into scripture, and look over in 1 Timothy 6:10 it tells us – The love of money is the root of all-evil.  But if we go back up into chapter 5 to see how we got to that statement, we see that people who want to get rich, fall into temptation and a trap and into mans foolish & harmful desires that plunge them into ruin and destruction.
As ministers of the gospel, we must be free from the love of money.  As overseers, the Bible says we are to be above reproach, not a lover of money, not greedy but eager to serve.  See where your treasure is, there your heart will be.  It will drive your values and decisions.  We can't be compromised.
So what am I trying to say – as we move into this Christmas season, don't get caught up in the presents hype and forget the real reason for the season.  Your young people will be watching you to see how you plan act and respond to the season.  They will look to you to see the expectation you set.  How do we focus less on giving and receiving presents and focus more on understanding the celebration is the birthday of the King.  Young people have become way too caught up in "what are you getting me?" and being mad if they don't get what they want.  There are those who also flaunt and tease those less fortunate who don't receive the presents they wanted.  The excess surrounding receiving Christmas presents is contrary to the lessons we should be teaching our students.
Now I am not saying having money is bad, you have to take care of your family.   We support the church thorough our tithes.  We help the poor through being good stewards of the resources God provides us.  What I am saying is the danger of a focus on accumulation of wealth, is that it usually dominates one's mind and life so that God's kingdom and glory are no longer first.
You say –  "having more money would really help . . . I don't have much and could use so much more.  It would reduce so much stress in my life."
But didn't God tell us to be content?
He said he would supply all your needs
He said he would never leave you or forsake you.
Have faith and confidence in His Word
Don't fall into the materialism trap
What assignment are you not doing to chase the dollar?  Be still and know that He is God.  Stay grounded.  The truly rich are those who have gained freedom from the things of the world through confidence that God is their father and he will not forsake them.
Money fails.  But we know that God can never fail.  Take inventory of your heart and life.  Is there any area in your life that needs forgiveness?  God promises to take care of the righteous.  First, repent of your sins and live a godly life.  Then God will supply all your needs.
Give me your thoughts; hit me back with your comments