Scripture teaches us we are to view  government through the lens of scripture, attempting to persuade them to make laws consistent with biblical standards of morality.   I know I have readers who are Republican and who are Democrats and I don't want to alienate any of you.  Preaching on politics is just too divisive.  But I like Paul will challenge you, as Christians, to faithfully discharge your responsibilities before God on issues of  justice.
             "I testify to you this day that I am innocent of the blood of all of you, for i did not shrink       
                                     from declaring to you the whole counsel of God" (Acts 20:26-27)
Scripture  point to believers who spoke out on behalf of government doing what was right.  Jesus taught, in Matthew 22:21, about the distinction between the things that belong to Caesar and the things that are God's.  Daniel, in Daniel 4:27 called out Nebuchadnezzar to hear his council and break off his sin by practicing righteousness.  Verse 49 says he was regularly at the king's court.  Jeremiah, in Jeremiah 29:7 told the Jewish exiles in Babylon to seek the welfare of the city because in it they would find their welfare, the laws and policies consistent with the Word of God.  Joseph oversaw Pharaoh's great wealth.  Moses demanded freedom for the people of Israel – "let my people go" (Exodus 8:1).   Nehemiah orchestrated the rebuilding of the walls of Jerusalem.  Queen Esther had influence on the king in changing the "policy" that were created.  Several of the prophets witnessed to the moral standards and requirements of treatment of people and how to conduct themselves.  John the Baptist rebuked Herod for the things he had done (Luke 3:19).  In Acts 24:25 Paul spoke to Felix about "righteousness and self control and the coming judgment".
Today I am honored to bring to you a man who has been in the fight for justice for a long time.  A man who has stood on the front lines, the soup line, the unemployment lines and the prayer lines in an effort to bring justice to every man. I thank him for inviting me to be a guest on his TV program this Saturday night and for  joining the conversation today.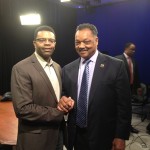 GUEST POST: REVEREND  JESSE JACKSON SR.
Weekly Commentary | Chicago Sun-Times
In oral arguments before the Supreme Court on the Voting Rights Act, Justice Antonin Scalia slandered the act as a "racial entitlement," arguing, "whenever a society adopts racial entitlements, it is very difficult to get out of them through the normal political processes." So, the right-wing justice intimated, the conservative "Gang of Five" on the Supreme Court had every right to step in and overrule the 98 senators who voted unanimously to reauthorize the act (including the senators of every state and jurisdiction required to seek pre-clearance of any changes in their voting laws).
The justice proved once more that he is not a neutral arbiter of the Constitution but a right-wing activist with an agenda to enforce. Deference to the popularly elected Congress and president is, apparently, only when they do what Scalia considers to be proper. When they choose to reauthorize a Voting Rights Act that has protected the rights of millions and transformed America's democracy since its passage in 1965, Justice Scalia thinks the court should negate their act, since he somehow considers protection of the right to vote a "racial entitlement."
Scalia's racial taunt has received the scorn it deserves. It makes more sense to apply his reasoning to the real "racial entitlements" that still scar our nation.
For example, a recent study by Brandeis University revealed a stunning increase in the wealth gap between whites and blacks in America. The gap tripled between 1984 and 2009. In 2009, the median wealth (the difference between what you own and what you owe) of a white household was $113,149. The median wealth of a black household was $5,677.
Why the difference? The study found five contributing factors.
First, whites were more likely to be homeowners than blacks, often because their families are more able to help with down payments. Black families who worked for 200 years in slavery and 100 years in segregation had less ability to accumulate wealth.
Second, whites made more income than blacks, even for comparable work.
Third, blacks are twice as likely to be unemployed as whites, and, with less of a family cushion to rely on, more likely to deplete their savings when unemployed.
Fourth, whites are five times more likely to inherit money, and their inheritance averages 10 times as much. Again, this surely is in part a legacy of our scarred history.
Finally, whites are more likely to have a college education than blacks. Blacks are more likely to find advanced training difficult to finance. They are more likely to graduate with debt, and their average debt on graduation is greater.
The wealth gap is, in Scalia's words, a "racial entitlement." Only this entitlement favors whites, not blacks. As Scalia wrote, "whenever a society adopts racial entitlements, it is very difficult to get out of them through the normal political processes." That's why it took a Civil War to end slavery, and to amend the Constitution to guarantee equal protection of the laws. It took the sacrifice of lives and limbs in a civil rights movement to end segregation, and to pass the Voting Rights Act to provide minorities with an equal right to vote. On economic inequality, the promise of 40 acres and a mule for freed slaves was broken. Dr. King marched on Washington to redeem a "canceled check" marked "insufficient funds."
If Scalia is right, "the normal political processes" won't solve this racial entitlement. Nor, for that matter, will the right-wing Gang of Five on the Supreme Court.
---