LYRIC OPERA EXPLORE OPERA RESIDENCIES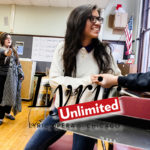 Explore Opera will engage students in an in-depth study of opera through activities that integrate language arts, music, drama, and performance skills. Students gain a rich understanding of a selected work, its history and context, and important themes. Working in collaboration, a Lyric Opera Teaching Artist guides students through a creative process to reinterpret select operatic scenes with their own words and music.
November 2017, Chicago Lyric Opera's Explore Opera with Lyric Unlimited exposed students to the French opera, Les Pêcheurs de perles by Georges Bizet. Lyric Opera teaching artist, Elise LaBarge, prepared the students for experiencing the opera by adapting its scenes, context and important themes into relatable, student friendly terminology. Students attended the dress rehearsal  to experience it "up close and in person". Ms. LaBarge hosted a debrief session to unpack the students experiences and assist them in reinterpreting the opera into their own life experiences.
"I thought this was going to be boring, but I comprehended a lot of what we learned from the session we had when Ms. LaBarge came to the school. Thanks for providing us this experience"    – Participating Student